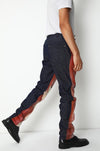 Hand Painted Muscle Jeans
Regular price
₹ 75,000.00
This pair of HUEMN Jeans has been meticulously, almost surgically handcrafted by our artisans in 100% cotton denim.
Inspired by the muscle structure of the human body, we measured out each muscle and drafted the proportions onto raw leather. Each panel was then hand-cut and appliqued on denim, taking our talented tailors over 28 hours to carefully sew. Once patched, our hand-paint artist Bala, painted on the muscle details with leather pigments in about 16 hours. Once dried, a sealing layer is applied for maximum comfort.
One of a kind; with classic denim details; these jeans are constructed for both men and women and are a homage to this beautiful body we call home.
Model is wearing size M
-
SIZE: 
M: Waist – 32", Hips – 40", Length – 41"
FABRIC: 
100% cotton selvage denim (medium weight)
DELIVERY: 
25 days
WASH CARE: 
Gentle machine wash, inside out